Galleries:
Wildlife
Fantasy
Masks
Leather Feathers
Painted Feathers
Storybook and Collage
Sketches and Studies

Prints and Originals:
Etsy Shop
Originals
Commissions

Contact
Blog
About the Artist
Older Updates

Leather Feathers

Leather feathers are hand-carved and hand-shaped from leather, painted with acrylics, and wrapped with your choice of
waxed thread or wire. They are decorated with stone, glass, metal or wood beads, and come with a 30-inch length of leather lace
so they're ready to wear or hang anywhere.

Smaller feathers (4 inches and smaller) are carved from thinner, 4-oz leather, and larger feathers are carved from thicker,
7-oz leather (4.5 inches and longer). If you are interested in ordering a custom leather feather, please fill out the form on this page:
Custom Leather Feather Request

Click on the thumbnails for full view.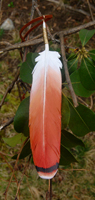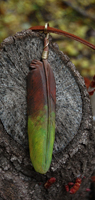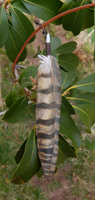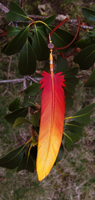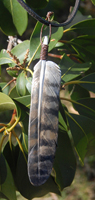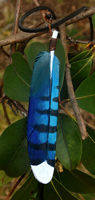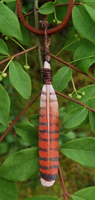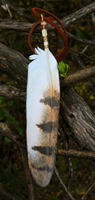 All artwork on this site is © 2004-2013 Brenda Lyons.
No images may be used without written permission.